COVID Safe Contactless Self Storage Service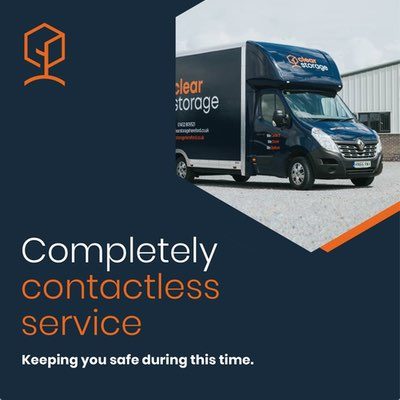 COVID may have our social lives on lockdown but it'll never stop us from our domestic tasks such as home improvements, moving home or spring cleaning. Some of these domestic jobs may mean we need extra storage…
With Clear Storage Hereford's flexible storage plan, self-storage is a simple cost-effective solution. We won't tie you down to a 6-month contract and you can increase and decrease the space you need whenever you want.
But how do you rent a self storage unit without coming into contact with people?
The booking procedure can all be done online. You do not have come into our COVID safe office. However, if you prefer us to help you fill in your forms, our office is COVID safe, we work on appointments only and will clean the office with antibacterial solution after each and every visit. We can also meet you outside if you don't mind braving the weather.
Moving in and visiting your storage unit
We have the largest storage site in Hereford where you can drive straight up to your unit without having to get into a lift, room or corridor. All that is between you and your personal belongings is the strong steel door and lock, which only you have the key to. We even supply the lock for you.
All of our units are fitted with a polished wooden floor, they have insulation, lighting, electricity supply and a dehumidifier. Just so you know every inch of your unit is thoroughly cleaned before you move in.
Other information
We offer all customers moving into a unit the use of our Luton maxi mover van for 1 day free of charge. We just ask that you pay for your fuel. This van is also thoroughly cleaned after every use.
This is not how we prefer to operate; we love meeting our customers and giving them the best possible personal service, which we still do, albeit at a distance!
For further information please do not hesitate to contact our office on 01432 809521 or fill in our online contact form.