Moving Home Boxes & Supplies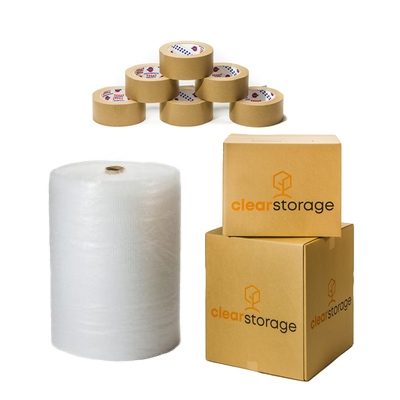 Here at Clear Storage in Hereford we are always on the lookout to see how we can make our customers move in and out of their homes a better experience, so on the back of many requests we have decided to start selling home removal boxes and supplies from our Rotherwas site.
We currently have on offer two different size boxes, tape, bubble wrap, furniture covers, mattress protectors, marker pens, paper wrap… pretty much everything you need to make moving home a little easier – let's face it, it's not the most stress-free jobs!
You can simply order your moving boxes and supplies online before noon and we will have it ready for collection on the same day, order after noon and it will be ready the next day – our office hours are 9.00am to 4.00pm Monday to Friday and 9.00am to 12.00 noon on Saturdays.
FAQ's
Can I get a refund if I order too many boxes?
Yes of course, providing these boxes have not been made up or have been damaged.
Why do you only sell paper furniture covers?
From our experience we find plastic furniture covers can make your furniture sweat creating stale odours and the fabric deteriorate, we always find a breathable membrane is much better solution. Don't panic though these furniture covers are tough!
Is your tape tearable?
Yes, no need for scissors or even worse your teeth, our packing tape is strong and tearable when you want it.
Why do you not do bigger boxes than 45x45x50cm?
We find any boxes bigger than this can be extremely hard to stack and can become unstable, especially in the back of a vehicle. We also want to protect your back – large boxes can get very heavy and very cumbersome to carry. Packing them heavier than 25kg is not adviseable!
Do you offer non-plastic bubble wrap?
In this day and age we are looking at ways we can be more eco friendly, so we offer recycled puff pack made from recycled cardboard. However our plastic bubble wrap is also recyclable.
Find our more information on our Moving Home Boxes & Supplies – if you have any questions please call us on 01432 809521.
We have put together a super useful Packaging tips for moving to a new home guide.
Happy moving!